Wraps Made Just For You
Our wraps are designed specifically with your needs in mind. Whether you have tightly coiled hair, long hair or no hair at all, our uniquely designed original, Perfect Pineapple wrap can work for you.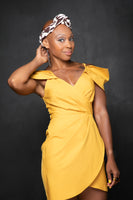 Wraps for all hair types
Perfect Pineapple® Wraps are your dream hair fashion solution. Although we cater to women with textured hair, our wraps work for all women with every texture of hair or no hair at all. Even our men get in on the fun. I guess that's what makes our wraps "Perfect" huh? :-) Click here to shop our styles.
Shop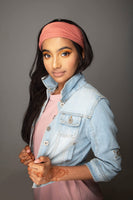 Testimonials
My curls are POPPING! All thanks to perfect pineapple wraps! I use my wrap at night to keep my curls out of my face and wake up to undamaged, frizz free curls!

Breanna Aponte - Social Media and Brand Expert, Founder of Shameless LLC.
I absolutely love my Perfect Pineapple wraps. They are super convenient and easy to wear, plus they/re cute so I can dress it up for any occasion.

Robin "Bijou Star" Sadler Radio Personality on WENZ Z107.9 & Founder, CEO of the Power Brand Group
I love my Perfect Pineapple Wraps!! They are perfect for when I want to look chic at work, on a night out or even just working out! They are simply perfect!

Michelle Sanders - Fashion Designer
Perfect Pineapple Wraps is a great addition to my wardrobe. I was able to wear it for an important moment in my life and when I wanted to hide my bad hair day. I love the way it stretches to fit any style I decide to wear. The unique print really and makes a plain outfit stand out.

TerDawn DeBoe - CEO and Creative Director at Creative Thought Solutions
Thank you. I received the wrap and I LOVE IT!I will order again when I see something I love. 

Shauneil Scott 3.10.22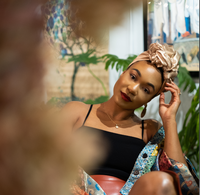 "The Perfect Promise" - Story Behind the Brand
"The Perfect Promise" - A Tale of Heartfelt Beginnings
In the heart of a humble basement, the seeds of Perfect Pineapple® were sown. Born from the creative hands of CEO Charron Leeper, these pre-sewn head wraps found their origin in a space that held memories of generations past. The story of Perfect Pineapple is one that blends the need for natural hair care with a touch of timeless fashion.
Nurtured in the heart of Cleveland, where community and craft intertwine, every Perfect Pineapple wrap is a testament to handcrafted dedication. Beyond mere functionality, these wraps stand as bold symbols of fashion, each one a canvas painted using the artful strokes of a technique known as 'pineapple'ing.
Amid the whispers of curiosity about her original creation, Charron embarked on a new journey - an online store that would breathe life into Perfect Pineapple.
But at the core of this brand lies the "Perfect Pineapple Wrap," the beacon that lit this creative path. An innovation that not only embraces your curls but cradles them, allowing your protective style to shine while offering a touch of freedom and flair. It's a tribute to individuality, an ode to uniqueness.
Yet, there's more to this narrative. Eunice, Charron's grandmother, graced her presence with the wraps during her battle with cancer. A beacon of strength, Eunice infused her creative spirit into the business, even as her own journey reached its poignant end. The fateful day of September 11, 2017, saw the wraps grace the runway of a local fashion show, and in the midst of it all, Eunice's spirit soared to new heights. Charron's words, painted with love, reached her, a final connection made before Eunice's departure from this world. And in each wrap that touches lives, Eunice's legacy lives on, forever imprinted in the threads.
"To my dearest grandmother, Eunice Brown – my muse and guiding light. In every stitch, every creation, and every step forward, your spirit lives on. Your unshakeable faith, your elegance, and the boundless love you showered upon me continue to inspire. This business is our shared masterpiece, a canvas painted with your essence. Forever in my heart."
With love,
Your Granddaughter, Charron